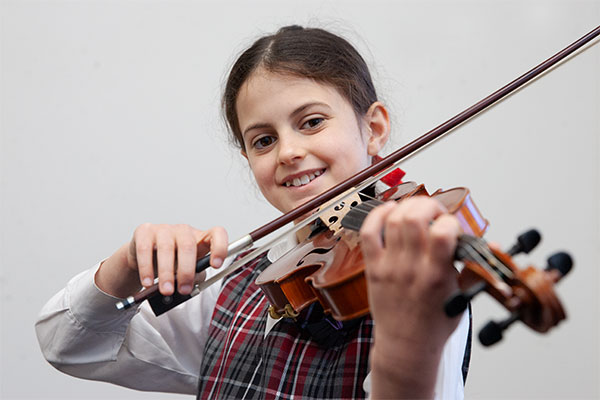 Arts HQ offers many opportunities to perform, compose and listen to a wide range of music. We also can support schools with various in-school and curricular programs.
Music Ensembles
Through the Arts HQ program, you can enrich your musical journey with our range of music courses. With specialised facilities and passionate teachers, we can help you to realise your dreams. We offer individualised workshops, ensembles and musical performance opportunities.
Sydney Catholic Schools Eisteddfod
The Sydney Catholic Schools Eisteddfod gives students the opportunity to act and perform in front of an audience either as a soloist or in a group. They receive valuable feedback from industry professionals as well as interacting with one another in a safe and supportive environment.
Amadeus
The Amadeus program provides students in Year 3 to 8 with classroom music lessons, ensemble lessons and small group tuition and is led by 80 school classroom music teachers and 270 specialist music tutors. These music tutors bring professional experience from orchestras and ensembles around Australia and the world.
Musicals
Sydney Catholic Schools' students are invited to be involved in musical theatre productions in collaboration with our first dedicated performing arts high school, Southern Cross Catholic College Burwood. Participation is by audition, and students are required to attend weekly rehearsals, as well as some holiday rehearsals.
Instrumental
Students have the opportunity to be mentored by professional musicians and are invited to feature in archdiocesan events such as live performances and music videos. Students may also be offered the chance to work in the state-of-the-art recording studios at Southern Cross Catholic College Burwood, alongside world-class musicians and tutors.
Songwriting
Students are invited to participate in songwriting workshops led by industry experts, culminating in original music that is scored and recorded professionally.