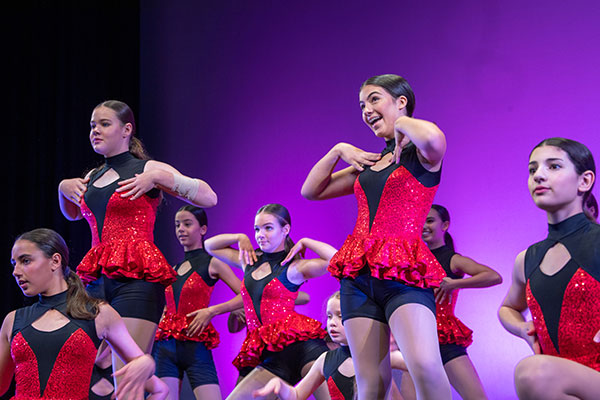 In 2023 the Sydney Catholic Schools Eisteddfod is back – bigger and better with additional venues and new sections. And this year also sees the SCS Sports Dance Competition amalgamated with the SCS Eisteddfod.
Eisteddfod events will be hosted by:
Mount St Joseph College Milperra | Marist College Penshurst |
Marist College Eastwood | Southern Cross Catholic College Burwood |
De La Salle College Caringbah
The Sydney Catholic Schools Eisteddfod gives all students the opportunity to hone their skills and perform in front of an audience, no matter their ability or experience. They receive valuable feedback from industry professionals as well as interacting with one another in a safe and supportive environment. All students from Sydney Catholic Schools are encouraged to enter sections in solo or ensemble sections in many different categories.
Categories
Vocal Solos & Choral Ensembles

Vocal Solo, Duet, Trio & Quartets

Choral Ensembles

Show Choir

Instrumental Solo & Instrumental Ensembles

Piano solos

Instrumental Solos & Duets

Concert, Jazz, Stage Bands

String, Wind, Brass, Percussion Ensembles

Contemporary Music Ensembles & Rock Bands

Dance Solo & Dance Ensembles

Drama Solo & Drama Ensembles
Entry is open to the following stages and levels. Specific experience limits vary between categories and are entered at teachers discretion:
Stages
Stage 2 – Primary- Years 3-4
Stage 3 – Primary – Years 5-6
Stage 4 – Secondary – Years 7-8
Stage 5 – Secondary – Years 9-10
Stage 6 – Secondary – Years 11-12
Levels
*Please note experience levels DO NOT denote quality of the performer/performance, they only cover the duration of time a student has been performing.
Newcomer – No prior experience or limited experience (specifics available in handbook provided to teachers). All members of a group in this level must fit the experience requirement.
For example… Drama Solo, Stage 2-6, No/limited prior involvement in drama classes/ performances inside or outside of school. Less than 1 year involvement.
Developing – Meets the experience requirement in the handbook (usually between 1-4 years specific to the discipline). May have gained their level of experience inside or outside of school. Members of a group may vary across Newcomer and Advanced but a majority must fit the requirement for developing.
For example… Instrumental Solo, Stage 4-5, Grade 2-4, Playing between 1 and 4 years.
or
A Show Choir who have gained knowledge of the voice and choreography over time. They have some experience with performing in front of audiences and students. The Show Choir may have competed in an eisteddfod or performed publicly before.
Advanced – Students must have performed before as per the experience requirements. Any group performance must have a significant majority of Advanced level performers and no Newcomers.
For example… Dance Solo, Stage 5-6, Dancing for more than 3 years
Note – Dance Ensembles are classified into Newcomer and Experienced only to match Sport requirements.
Trophies are awarded for each section in every stage and level. Trophy types may vary section to section and are awarded at the adjudicator's discretion. Their decision is final.
Dates for 2023
Please note that the specific schedule for each day, and who performs at which session, will be shared at the beginning of Term 2.
| Week | Date | Category |
| --- | --- | --- |
| Week 4 | Wednesday 17 May | Dance Ensembles |
| | Thursday 18 May | Dance Ensembles |
| | Friday 19 May | Dance Ensembles |
| | Saturday 20 May | Dance Solos |
| Week 5 | Friday 26 May | Drama Ensembles |
| | Saturday 27 May | Drama Solos |
| Week 6 | Wednesday 31 May | Choral Ensembles |
| | Thursday 1 June | Choral Ensembles |
| | Friday 2 June | Choral Ensembles |
| | Saturday 3 June | Vocal Solo, Duet, Trio and Quartet |
| Week 7 | Friday 9 June | Instrumental Ensembles |
| | Saturday 10 June | Instrumental Solos & Piano Solos |
| Week 8 | Friday 16 June | Contemporary Music Ensembles & Rock Bands |
| | Saturday 17 June | Piano Solos |
| Week 9 | Day 1 – TBC | SCS Eisteddfod Showcase – Invitational |
| | Day 2 – TBC | SCS Eisteddfod Showcase – Invitational |